Boltiesd™ Pet Portrait Name Necklace
Buy 2 or more Get 20% OFF

Handmade within 3-7 business days
(
Shipping not included
)
Free Shipping
Free extended 100-day returns
A great pet memorial gift, let your pet stay with you forever
Pet portrait necklace customizes your pet photos and can be worn every day. It is also a perfect gift for your friend, dog mom or cat lover. There are available in silver, gold, and rose gold. And you can choose 1 disc charm , 2 disc charms and 3 disc charms. Your pet photo will be engraved on the disc charm.
✿ Product - Size
    Disc Dia - 0.7 inch (18mm)
    Chain length - 16" (40cm) +2'' ( 2 inches is the extension chain)
    Color - Gold Plated / Silver Plated / Rose Gold Plated
Our jewelry pieces come equipped with everything you need for gifting, It comes in a gift box and is ready to be given.
The necklaces are covered with 18-carat gold for gold colors.
HOW DO I PLACE AN ORDER?

Choose the desired finish, font, number of names and enter the desired names, upload the pet photos. Don't hesitate to contact us if you have any questions.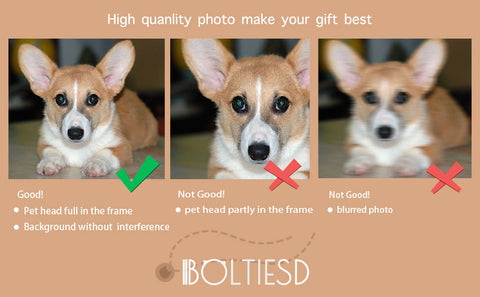 More Pets Supported: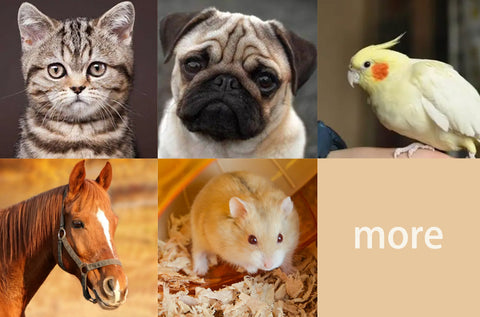 OUR GUARANTEE
We offer a 100-day guarantee on all our products and our staff will be more than happy to assist you with any issues you may have. We offer customer support 24/7. 100% Customer Satisfaction Guaranteed!
SHIPPING
- DOMESTIC (U.S.): 3 - 8 business days
- UK, FR, DE: 5 - 8 business days
- AU, NZ: 5 - 10 business days
- CA: 5 - 12 business days
- INTERNATIONAL: 7 - 14 business days
We offer worldwide shipping on all orders. Once you place order you will receive an email with the details of your order.  It takes 3-7 working days for production and processing. Once the item has been shipped tracking will be automatically emailed to you. The total time (production and shipping) is 10-21 days.
We provide worldwide FREE shipping.
Return Policy
New, unworn items can be returned to BOLTIESD within 100 days of delivery. Please note that because all our personalised items are one-of-a-kind, those returns will incur a 30% restocking fee.
100% with it!
I've been wearing the necklace ever since it arrived. The golden colour is beautiful and hasn't faded. Also, a fantastic size for the circles with my cats faces, not too big, not too small. The pictures were so accurate too. I would definitely order this for family members with pets!
Love this!
I absolutely love my necklace!! Perfect detail from the picture I sent. Highly recommend!
AMAZING
loved my necklace and wear it everyday.
Adorable!
I have 2 cats and got their faces engraved into a necklace. Me and my husband thought it was so cute. Awesome quality.
My Memorial necklace
I gave it a four star for the chain that was pretty sturdy and the color It looked a little distorted when I received it like it's been poked too many times like they were trying to find a better angle it was not smooth but it still looked like my little Leela. I guess for the price I paid it wasn't bad
So cute!
Outstanding craftsmanship
Collier gravure
Beautiful 😍😍 I love it il ne me quitte plus
By
I got this right after my cat Oskar passed away. I love it and put my Fisk on a whit gold chain. It looks beautiful.
Best present ever
I brought this for my sister for her birthday it was so amazing and the best present she ever got I'm go glad I got it it is worth the money will be definitely buying more